This book is not available on the open market.

In these recessionary times, it can be extremely difficult to find safe places to squirrel away a little money. What better option than in antique silver and sugar tongs are the ideal solution. You can still obtain some delightful examples of 200 year old craftsmanship at very reasonable prices.

Now is the perfect time to buy the definitive book on the subject. Order now and you will receive FREE an insert of an additional 65 makers marks seen on tongs. This is the most comprehensive list there is of makers of sugar tongs of this period.

if you order from this web-site, you will receive a personally signed copy.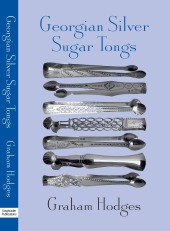 Georgian Silver Sugar Tongs, by Graham Hodges
Georgian silver has become extremely collectable in recent years. Sugar tongs are still relatively inexpensive and offer the collector some stunning examples of craftsmanship of the Eighteenth century. This book will tell you everything you want to know about Georgian silver sugar tongs. It describes the development of sugar tongs through the 60 year reign of King George III. It covers the gradual change from hand-made silver to the introduction of machine made work, tracing all the different styles and types of sugar tongs. The book describes the different hallmarks and makerís marks, enabling you to build a beautiful collection of 200 year old silver. It describes the pitfalls to look out for and discusses the differences between the styles of Scotland, Ireland, London and the English regional centres. There is a comprehensive list of makerís marks and the book is easy to follow and understand giving a fascinating insight into the world of the silver-smith in the Eighteenth century. There are nearly 1,000 photographs of sugar tongs, makerís marks and hallmarks, making it the perfect reference book for the collector.
This is the only known book published on this subject and is full of all the information you need to build a superb collection of silver sugar tongs.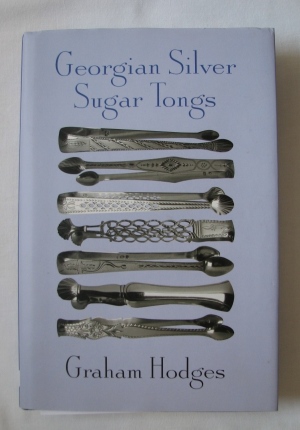 A high quality hard back book, with best quality paper, binding and dust cover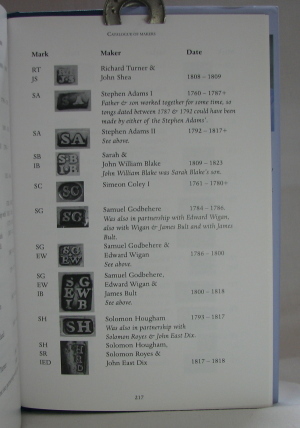 A comprehensive list of makers of sugar tongs, shown split into each of the main Assay Offices - these marks are all photographed from actual pairs of sugar tongs.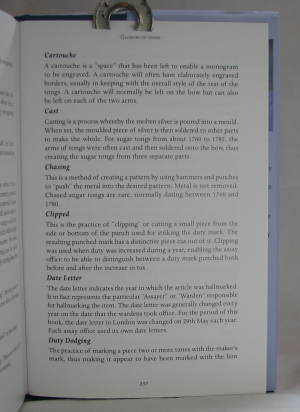 A glossary of all the terms associated with sugar tongs that you are likely to come across - no need to be bamboozled by dealer's jargon any more!
A complete list of photographs from actual sugar tongs, showing every form of date letter, covering the period from prior to 1784 to 1820/21, including the variations introduced for increased duty.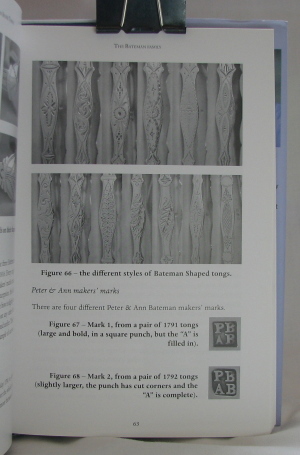 The Batemans are perhaps the most famous of the Georgian Silver-smiths - an entire chapter is devoted to them, with comprehensive review of their particular styles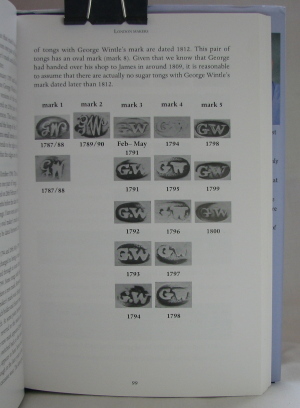 A whole chapter devoted to the London makers, with many of the most prolific makers discussed in detail.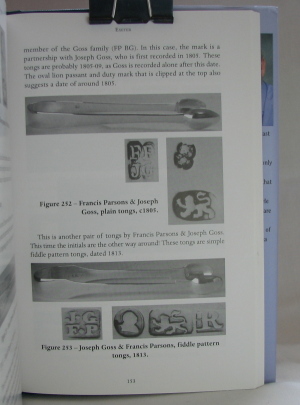 Some very rare examples are shown, this page shows both of the marks for Joseph Goss & Francis Parsons, not seen in any other known publication.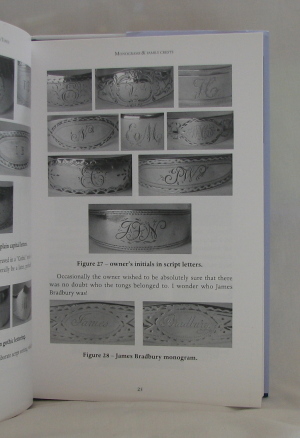 Even monograms and crests can be fascinating, this chapter describes the types that will be seen and shows some fine examples, including some oddities!

In all, this is a unique book. Nothing similar exists anywhere. It is the only known reference work about sugar tongs and contains a wealth of material that has never before been published on the subject including nearly 1,000 photographs of sugar tongs, makerís marks and hallmarks, making it the essential reference book for any collector or dealer in early British silver.

There were only a limited number of these books printed, and there are no plans for more or a second edition

Exclusively you can order your personally signed copy of the book directly from the Author. These copies are severely limited - and you can order your copy simply by filling in the order form below. In the current economic climate, there could never be a better time to invest in antique silver. This book will provide the perfect reference for just such an investment, whether for sugar tongs, or for any investment in antique Georgian silver. Simply fill in the form, send it off & you will receive the book within just a few days.


Order NOW to be sure to receive your personally signed copy.

What are readers saying about the book? Click here for readers comments

Click here to place your order - delivery anywhere in the world.

ONLY £29.99!!

This book has generated truly international interest and has sold to:

Australia

Belgium

Canada

Finland

Ireland

Italy

Netherlands

New Zealand

Portugal

South Africa

Sweden

UK

USA